Campaign Pillars
Improving Healthcare
Carlton believes Healthcare is a right that ALL should have, and that healthcare should include but not limited to:
⁃ Access with a patient centered approach
- Natural and Holistic Care Options
⁃ Prevention, Monitoring and Follow-up (reasonably cost-effective routine testing and primary care)
⁃ Research & Development (more collaboratives to include women and diverse ethnic communities)
- Expanded options for natural births
and last but not least; the expansion of Medicaid.
---
Bridging Communities
Carlton believes in improving relationships with residents of South Carolina and Law Enforcement in order to strengthen communities. Boyd also believes in engagement with street level organizations to improve public safety for all living in and visiting the state of South Carolina.
Boyd subscribes to a philosophical idea that is embedded in the belief that funding the arts enhances the lives of everyone. This endeavor will promote and allow opportunities for residents of South Carolina to build creative outlets for curators to display, distribute, sell, and enlighten others with such a creative outlet.
---
Improving Workforce Development
Carlton has envisioned strengthening South Carolina's competitiveness for several years. Securing the gubernatorial win will allow Carlton Boyd to bring this prophecy into a reality for South Carolinians.
Improving trade schools and enhancing two-year technical colleges with tools needed to prepare graduates for the workforce will assist in lowering poverty rates in many counties.
---
Student Loan Forgiveness
Boyd's vision is to expand student loan forgiveness for first responders, teachers, graduates of South Carolina based technical colleges, 4-year institutions, and HBCUs that will remain gainfully employed. The graduates of this program will allow South Carolina talent to contribute to South Carolina's workforce while remaining enrolled in South Carolina based institutions of higher education with a part-time or full-time status as they pursue post graduate degrees. The student loan forgiveness would aid first responders in filling accumulated vacancies that have been detrimental to South Carolina's cities and counties while creating jobs and expanding South Carolina's workforce.
---
Improving Education for All
For too long, many have accepted the minimally adequate education narrative for K-12 public school systems. Carlton Boyd believes a minimally adequate education is ground zero for success. It has a hazardous underpinning that is overdue for repairs and in need of a thorough inspection before public schools are deemed as being out of order as a result of neglect and abandonment from responsible parties.
Carlton favors changes in standardized testing that is fair for administrators. K-12 educators have learned to manage average classroom self-contained ratios of 20+ students. Boyd proposes partnerships with colleges and local school districts that will allow undergrad students to earn wages while earning classroom hours under the guidance of certified teachers.
---
Assistance for Individuals with Service Animals
Create a program that aids South Carolinians with disabilities and pre-existing conditions that require access to service animals, by minimizing their monthly out-of-pocket expenses; this would improve individuals' quality of life. Such pre-existing conditions are not limited to South Carolinians that have been clinically diagnosed as living with diabetes or epilepsy. Retired service members would be eligible for similar benefits.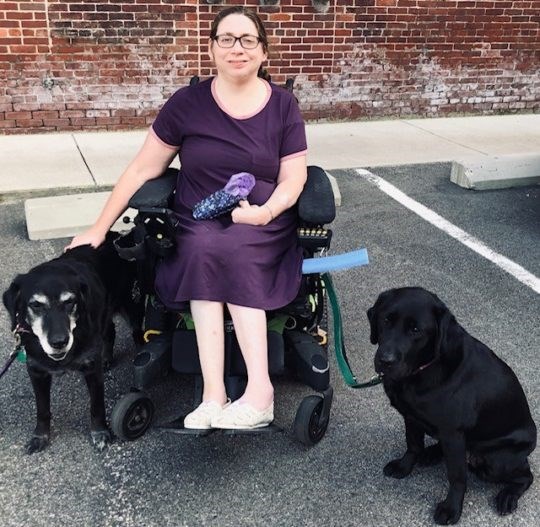 This assistance for service animals would include discounts or reduced costs for such things as food and/or grooming.
---
Increasing Opportunities in the Motion Picture and Visual Media Entertainment
Welcoming the motion picture industry into South Carolina creates opportunities for local talent to gain experience while building a stronger media presence for us. Motion pictures and television series that are filmed in South Carolina expand opportunities for local companies to join in the experience of making the magic happen on the silver screen.
A few of the opportunities offered to local businesses include security, catering, opportunities, food truck vending, location rentals, make up artist services and a hodgepodge of local talent that make the production come to life.
Pictured Right: Cuba Gooding Jr. and James Robert "Radio" Kennedy, a loyal fan of T.L. Hanna High School Football Team that was located and played in Anderson, South Carolina. Cuba Gooding Jr., portrayed the late James Kennedy as Radio in the film Radio that was inspired by a true story and a local South Carolina legend.